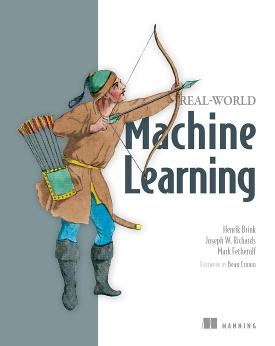 welcome to
this free extract from
an online version of the
Manning
book.
Real-World Machine Learning is a book for people who want to apply machine learning (ML) to their own real-world problems. It describes and explains the processes, algorithms, and tools that mainstream ML comprises. The focus is on the practical application of well-known algorithms, not building them from scratch. Each step in the process of building and using ML models is presented and illustrated through examples that range from simple to intermediate-level complexity.
Part 1, "The machine-learning workflow," introduces each of the five steps of the basic machine-learning workflow with a chapter:
Part 2, "Practical application," introduces techniques for scaling your models and extracting features from text, images, and time-series data to improve performance on many modern ML problems. This part also includes three full example chapters.